When the schools are close or summer vacation..or sometime econ0ny crash or disease spreading one option you can do home school online here are ultimate list of home school online web services for your kids.. Enjoy it..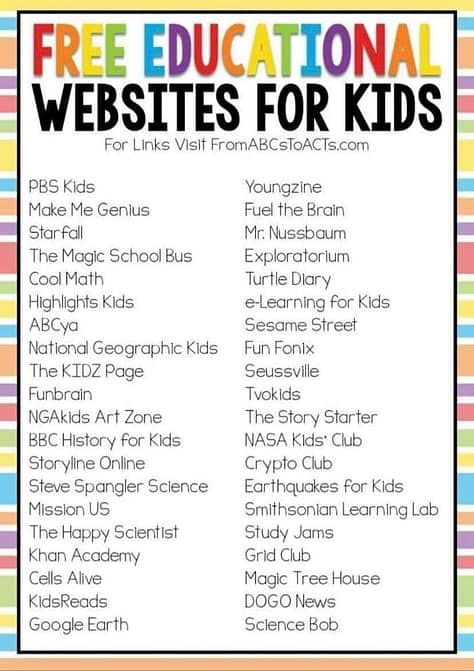 Switchzoo Play time
https://switchzoo.com/make_play.htm
Reading
Seussvilla
Arcademics
ABCya
Nationalgeographic KIds
https://kids.nationalgeographic.com/
Funbrain
PBS kids
Starfall
Storyline online
https://www.storylineonline.net/
Highlights kids
https://www.highlightskids.com/
Make me genius
Scholastic – the-magic-school-bus
https://kids.scholastic.com/kids/books/the-magic-school-bus/

Scholastic – studyjams.
http://studyjams.scholastic.com/studyjams/

Cool Math
The kids Page
NGA Education For Kids
https://www.nga.gov/education/kids.html

BBC History for KIds
http://www.bbc.co.uk/history/forkids/

Stevespangler science
https://www.stevespanglerscience.com/

Mission Us
The happy scientist
https://thehappyscientist.com/

Khan Academy
Cells alive
Kids Reads
Google earth
Young Zine
Fuel the brain
Mr Nussbaum
Turtle diary
E learning for Kids
https://www.e-learningforkids.org/

Sesame Street
Fun Fonix
TVO Kids
The story starter
https://www.thestorystarter.com/

Nasa Kids Club
https://www.nasa.gov/kidsclub/index.html

Crypto Club kids
Earth quake learn for kids
https://earthquake.usgs.gov/learn/kids/

Learning lab
Grid Club
Magic tree house
https://www.magictreehouse.com/

Dogo News
Science Bob
Disclosure: Some of the links in this site are sponsor links, meaning, at no additional cost to you.We only recommend things that we use, value, and trust. We may receive compensation from our partners,Only if you make a purchase. All opinions are 100% our own.
Image Credits:
Some images are copyrighted to their respective owners. All content cited is derived from their respective sources.