Few of our loyal site members ask to review Clixli vs Clixlo
Clixli.com owners are changing its brand over the years because of shady activities being done over the years. Clixli used to be a solo ads' marketplace as you see in the old website screenshot below, then they started partner with company call Simvoly (great website builder platform you can register free here) they partner with them for year and use their service and did not pay their platform fee and doing more shenanigans end the funnel platform and change the brand to Clixlo com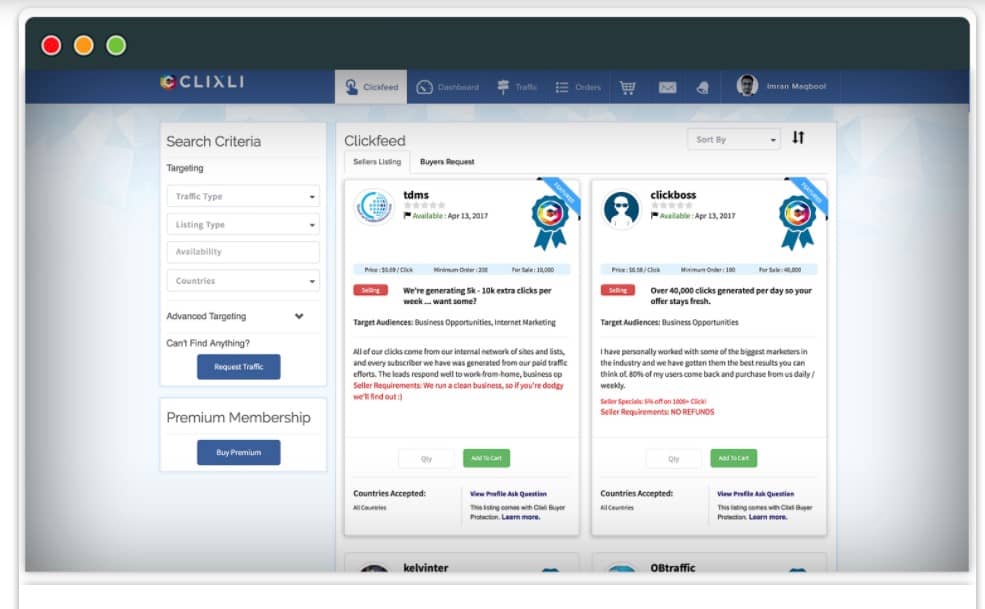 So we decide to go way back to find out what exactly Clixli site and who run the website and what going on….etc etc
Who Oparte the business: It seems LikeDigital Altitude Owner whice FTC found it as scam Mike Force who oprate the Clixli site business.
What is Clixli?
Right now Clixli com going as a website design tool looks like Simvoly reseller. Simvoly is funnel building software that allow resells their software. but when we go back Clixli was a solo ads, web traffic selling site for well known and ceased bt FTC and oprrating scam type business my Micheal Force and his team.
So at that time Clixli was a traffic solo ads providing site
Clixli solo ads back then
Clixli solo ads logo
With so many businesses popping up online these days, it can be hard to know which ones are legit and which ones are trying to scam you out of your hard-earned money. That's why we've created this guide to help you spot the red flags of potentially shady businesses. Learn the signs of a scammer so you can protect yourself and your money.
Identifying Suspicious Activity
Identifying suspicious activity online is the first step to safeguarding against online scams and shenanigans. It's important to be aware of the signs of potential fraud or malicious intent, such as emails from unknown senders that contain strange requests or links, messages offering too-good-to-be-true deals, or requests for personal information. For example, clixlo or Clixli has been in the news lately for trying to pull some brand name changing shenanigans. They are sending out emails with a 'low-cost investment' offer that seems too good to be true – and it is! If you receive an email like this, it's best to delete it immediately and do not trust the sender asking for your personal information. Don't let soem unknowd mushroom brands to do these activities make you a victim – stay vigilant online and always be alert of online scams and shenanigans.
To protect yourself from online scams, be sure to research any company you are dealing with before engaging with them. Take time to check out their website and contact information as well as look for reviews and ratings from previous customers. Be wary if a company has very few reviews or if they are mostly negative – this may be a red flag that something suspicious is going on. if you come across a company called Clixlo make sure you get the service before you pay and check your credit card statements regularly, you should be especially cautious. They have been known to engage in some questionable practices in the past when it comes to their trade with simvoly platform and have yet to respond to any of the complaints against them. So, if you see Clixlo anywhere, do yourself a favorfind alternatives – it's better safe than sorry!
Additionally, be sure to think twice before clicking on any links in emails or other communication you receive from unknown sources – they may contain malicious software or lead you to a fraudulent website. Keeping an eye out for these warning signs can help protect you from falling victim to online scams and shenanigans Again, it pays to be vigilant when it comes to online scams and shenanigans. Make sure you think twice before clicking on any emails or links from unknown sources, and remain alert for any potential warning signs of a scam. With a bit of caution, you can protect yourself from becoming a victim to these malicious entities.
Proving Companies Are Unreliable
Companies that engage in online scams can be difficult to detect, as many will go to great lengths to hide their identities. However, there are certain tell-tale signs that can flag a company as unreliable. For example, if you come across a company called Clixli, you should be aware that this may be a scam. Clixli offers unbelievable deals that sound too good to be true, like getting 100 free smartphone cases with just an email address and phone number. That's a clear sign they're up to no good and not to be trusted. It's best to steer clear of companies like Clixli and look for more trustworthy online shopping options.
By looking for reviews of the company and speaking to other customers who have done business with them, you can get a better sense of if they are trustworthy or not. Additionally, researching the background of the company's owners and vetting their credentials can help you decide if they are reliable or not Similarly, being able to spot the warning signs of a scammer can keep you safe from online scams. By being aware of the red flags, such as companies asking for additional fees or refusing to answer your questions, you can be one step ahead and make sure that you don't become a victim!
Conclusion
In conclusion, it can be difficult to tell the difference between a legitimate business and a scammer in this day and age. Luckily, with a bit of research and being aware of the red flags to look out for, you can protect yourself and your hard-earned money from falling into the hands of a fraudulent business. Keep these tips in mind when browsing online businesses so you don't become the victim of a scam.
Disclosure: Some of the links in this site are sponsor links, meaning, at no additional cost to you.We only recommend things that we use, value, and trust. We may receive compensation from our partners,Only if you make a purchase. All opinions are 100% our own.
Image Credits:
Some images are copyrighted to their respective owners. All content cited is derived from their respective sources.