The better way to get more opens
Auto resend nonopened Email Subscribers. There is always to ways to get more opens and clicks to your emails. If we told you there two free and paid email marketing tools we know do that for you.
2nd, Go with Automizy here
This feature along you might get so many opened when you use that resend automation feature in built-in those email marketing systems. Try it and it always works like charm to get more opens and clicks eventually more revenue for your online business.

Resend Automation is the key feature you should look for…
But make sure you use it correctly limit the amount of resend you use within certain period of time.
Just get one of those platforms one is free to join another one had many inbuilt features like subject line checking tools to get more emails into the inbox of your subscribers.

That is the chart and numbers we found when we used the auto resend feature inside Mailer Lite. Auto resend nonopened email Subscribers.
Auto resend nonopened email Subscribers. example
When we sending emails to our offers like marketing campaigns that we need to share our average email open rate below 20% which is a little bit lowers than when we send value email news updates.
Then we use the feature for Auto resend unopened email Subscribers and with little bit adding personalization to the email content and using more subject line checker tool to and our open rates went up to 25% which is awesome. and we got more clicks and few sales.
What are the facts that count as reopen campaigns we look for
Its simple all you have to do is make a spreadsheet of the last 2 weeks' regular email sends without using auto resend feature. so get those numbers and compare those numbers with resending emails. The initial goal is to get more opens.
Once you have all the numbers ready as industry average rating it about 15% to 30% open rate if they are cold subscribers. so you can experience super hike on open rate when you use Auto resend nonopened email Subscribers.
Also, keep it in mind use that features with edits> DO NOT RESEND EMAIL WITH SAME content and the same email subject line. the software allows you to change the content and subject line for the resend automation campaign so use all those benefits to get maximize the open rates using this auto resend email tool.
Do not worry about getting some bounces and some unsubscribe as most of them are cold subscribers. You also can use this auto resend tool for your customer's subscribers and warm subscribers too but that only if you use time zones and day difference. Day and night email open rates can be changed.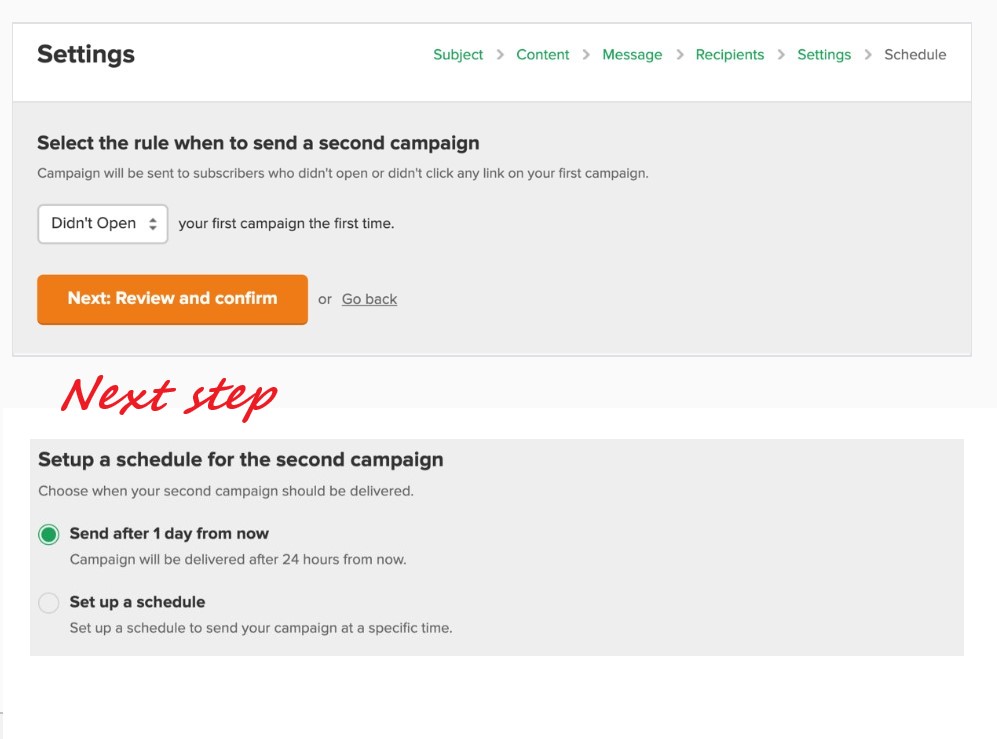 How Mailer lite use to Auto resend emails
Look above image and all you have to do is under schedule, selct don't opned and choose send after one day or set up comfortable time you think that may get more opnees. with your experince fromregular emails sending routings.
How about Automizy ? Auto resend works
The below image shows you how you can use Automizy (learn more) for resending emails for non-opners.
Search about,
Auto resend nonopened email Subscribers
On Vip Search Portal Here
You can browse through the first results we found.Type "Auto resend nonopened email Subscribers" on Next Vip search Page.. Other Vip Custom Search Keyword Ideas Related To this Topic, You can Search them on Counzila com Vip Search and marketing engine. how to resend a constant contact email resend email mailerlite auto resend:https://wikitrends.counzila.com/mailpluslite outlook resend email if no response mailerlite resend campaign how to resend an email in pardot sendgrid resend email constant contact resend to unopened Start Search More About,"Auto resend nonopened email Subscribers" You can browse through the first results we found at
Vip Search Here.
Copy This Query,
Auto resend nonopened email Subscribers
Before You advance to VIP search..(Once you there "paste" what you copied here and start VIP search)
Auto resend nonopened email Subscribers
Vip Search Helpful counzila search guide.
• Tap right into Icon and see what you want ( Services, apps, Entertainment, youtube, Facebook,eBay, Groupon, download our recommended solutions, find internet marketing tools use hand-made landing page service for online business and small business • Every search is safe to search and Clear your search by hitting "X" mark on search box easy and convenient. • See thumbnail images relevant to your search. The top right corner goes to counzila blog to find new media updates, entertainment news posts, or online marketing posts. • Recommended results see the right way on the top. see relevant banners on top if you search before anything before. • See our business connection details and legal information at the end Let us know your thoughts here: https://counzila.com/contact Few More content Resources here,(Sponsored:We Share Our Love-You can share too-Please share this and show your love)
Things you may check out!
Subscribe & Watch On Youtube.
How To Retire Soon.
My #1 Pick.
A Plan:Things You Need To Get Started.
Search More Look Alike Trends.
Must Have Online Web services For successful online business
FAQ about resnding emails
Can you resend an email?
yes, you can resend an email when you have that feature inbuilt inside email marketing software like Mailer lite and Automizy. But if you referring resend emails on personal email providers like Gmail, yahoo, hot mail that's simple all you have to do is use forward feature..but you can not automate the flow or use those emails for business purposes.
How do I automatically resend an email in Outlook?.
No, you can not do that on personal email services its a paid email resending feature most email marketing platforms do not have.
When should you resend an email?
As soon as possible. so when you send your 1st email and wait then login to your email sending software like Mailer lite and check statistics. so then if you do not see good open rate that the time to send another email using resend email feature. But also you can set it up 1st time when you send too.it will send automatically the time you scheduled the resend.
Disclosure: Some of the links in this site are sponsor links, meaning, at no additional cost to you.We only recommend things that we use, value, and trust. We may receive compensation from our partners,Only if you make a purchase. All opinions are 100% our own.